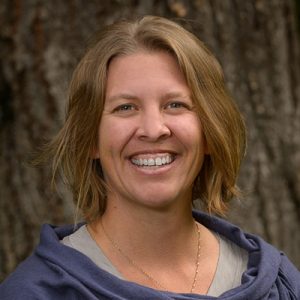 Erica Olson
Systems Ecologist
Key skills: coastal and marine ecology, marine planning, ecosystem monitoring design and evaluation, adaptive management, structured decision-making, quantitative and qualitative data analysis, workshop facilitation, working with Indigenous communities and multiple ways of knowing.
Erica's work focuses on exploring the intricacies of ecological and social systems to inform environmental management and planning within coastal and marine environments. She seeks to improve decision-making processes through identifying and informing critical areas of uncertainty, with the ultimate aim of fostering better ecological outcomes. Her work includes evaluating and designing ecosystem monitoring programs, assessing impacts from human activities on ecological and cultural values, and developing decision-making and risk management frameworks. She is experienced in developing pathways of effects models and gathering and documenting knowledge related to developing strategies for assessing ecological condition, implementing marine plans, and adapting to climate change.
Much of Erica's work supports Indigenous communities in their environmental management initiatives, or supports collaborative initiatives by Indigenous communities with Canadian provincial and/or federal governments. On the coast of British Columbia, she has worked on multiple projects to support First Nation stewardship, marine planning, and marine plan implementation, including designing monitoring programs to ensure data informs decision-making needs, assessing cumulative effects on valued components, and developing management plans. In Australia and Canada, she has worked with Indigenous knowledge holders to document their knowledge and support them in braiding their knowledge with western science to inform conservation and management. She also currently represents Indigenous communities on technical and co-management boards.
Working with Canadian provincial and federal governments, and non-profit organizations, Erica has developed frameworks for assessing ecosystem condition as well as assessing ecological risk related to human uses. For example, she has developed an estuary characterization framework for the Bay of Fundy, a framework for assessing risk related to various uses within Canadian National Marine Conservation Areas, and ecosystem health indices for Burrard Inlet in British Columbia.
Erica is an experienced facilitator, having hosted many in-person and virtual workshops, including technical working groups with participants from multiple organizations and perspectives (e.g., governments, industry, non-profits, academia), as well as meetings with Indigenous Elders and land users to support Indigenous community-based initiatives. She is passionate about tackling challenging problems through bringing together people with unique perspectives and ways of knowing to improve the decisions that drive environmental outcomes.
Erica holds a B.Sc. in Natural Resources from Cornell University, where she investigated human impacts on spinner dolphins in Hawaii, and a M.Sc. in Resource Management from Simon Fraser University, where she combined satellite telemetry and traditional and local knowledge to comprehensively investigate male loggerhead sea turtle movements in Shark Bay, Western Australia. Erica currently lives on Nex̱wlélex̱wem/Bowen Island in British Columbia where she enjoys paddling, camping, playing the ukulele, and playing hockey.