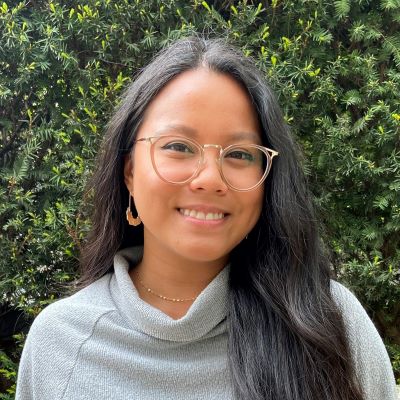 Noelle De Ocampo
Business Development & Resource Allocation Coordinator
Key skills: Interpersonal and communication skills, collaboration, facilitation, team management and leadership, stakeholder engagement, project management.
Noelle De Ocampo's work focuses on serving as a central hub for Business Development, Resource Allocation, Project Coordination and Strategic Planning Support across the company. She works to support and enable our Systems Ecologists and Project Managers by ensuring efficient and effective resource allocation decisions throughout all stages of project timelines.
Noelle holds a BSc in Natural Resources Conservation from the University of British Columbia's Faculty of Forestry. This multidisciplinary background has given her an understanding of biodiversity, sustainability, ecology, conservation biology, land-use planning, sociology, resource socio-economics and globalization. Her major in Global Perspectives allows her to examine renewable and non-renewable resource systems and its involved policy and planning, in the context of human communities and impacts.
She found passion in her degree because it integrated resource conservation and human development, striving to find balance between social, economic, and environmental goals.
Noelle brings a strong interdisciplinary approach to forestry conservation management combining an understanding of local community engagement, technical and economic aspects with national and global policy perspectives. She is a proficient researcher, comfortable with data management and social and policy research and has particular interest in Indigenous communities and developing mutually beneficial options for forestry programs and communities.
Her project management experience, stakeholder engagement and communications skills have been honed throughout years of student engagement at UBC, and retail management experience. She has planned and managed events for hundreds of people, enjoys presenting to large audiences and developing effective marketing and communications campaigns combining written, visual, video, and online elements.
Outside of work, she spends much of her time running or roller skating down the sea wall, chasing every sunset she can, creating community and cooking for her friends.